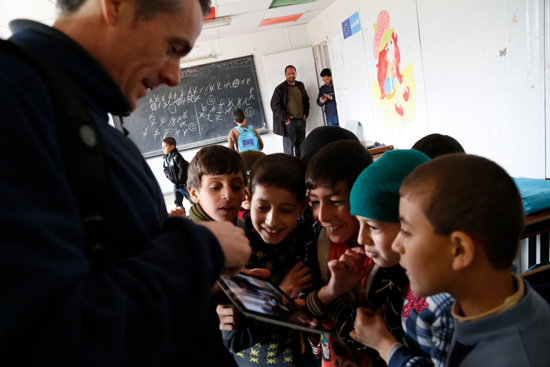 Last year, the United Nations (UN) Refugee Agency reported that the number of refugees, asylum seekers, and internally displaced people worldwide exceeded 50 million people, the highest number reported since World War II. The majority of these refugees coming from Afghanistan and Syria are fleeing violent conflict and war torn communities, and are running toward neighboring countries where they often face extreme poverty and limited opportunities to rebuild their lives. Technology is often recognized as a potential solution that can ameliorate the service and information gap that impact refugees' lives.
Entering Al-Zaatari's 3G Zone
In December 2014, I visited the Al-Zaatari Refugee Camp located in Mafraq, Jordan. Al-Zaatari is the fourth largest refugee camp in the world after Dadaab and Kakuma (Kenya), and Dollo Ado (Ethiopia). The estimated population of the camp is close to 83,000 people, which is less than the 200,000 refugees that inhabited the camp in 2013. The current population is 13,000 over the recommended 60,000 limit imposed by the United Nations. From the moment you enter the camp, you immediately notice the way modern technology is impacting today's refugee crises. International organizations have embraced the use of technology and data, but has this impacted the lives of refugees?
As you arrived to the camp, you are greeted by an updated map of the camp created with satellite imagery. The map clearly delineates all of the districts within the camp and provides the location of major infrastructure including schools, sanitation facilities, religious centers, hospitals, and paved roads.
Nowadays, satellite imagery and Geographical Information Systems (GIS) are used to plan, build, and manage refugee camps and organize humanitarian interventions. The UN and international organizations alike use these maps to identify migration patterns inside the camp and determine how to allocate resources efficiently. Additionally, these same maps facilitate interoperability among international relief organizations on the ground to avoid duplicating efforts.
Walking further into the camp, I noticed mobile phones everywhere. Everyone from security officers to NGO workers and refugees can be seen carrying a cellphone. Initially I found this surprising, as I assumed that the remote location of the camp would translated to limited network coverage. However, as I later learned from UNICEF representatives, there is continuous 3G coverage all the way to the border with Syria located 10 kilometers away. The prevalence and impact of mobiles in the Zaatari camp has been noted by various researchers.
According to the results of a survey conducted by Penn State University and the Office of the United Nations High Commissioner for Refugees, 86% of the youth that were interviewed indicated that they own a mobile device, and more than 50% indicated they used the Internet either once or multiple times per day. Furthermore, respondents indicated that they use mobile phones to access the news, social media, and stay in touch with family members in other settlements or with those who remained in Syria.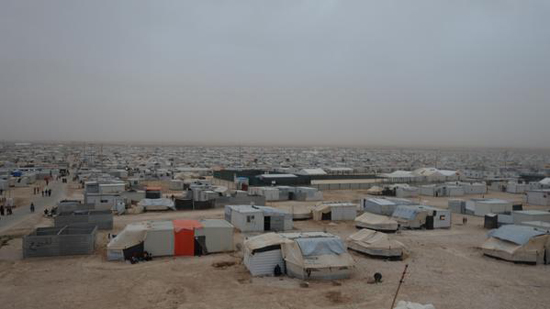 Mobile phones have become a necessity, as it is the one tool that helps them avoid isolation and learn about the services and initiatives that are available to them inside the camp. As Professor Dana Janbek states: "The cellphone is as vital to their survival as food, water and shelter." Consequently, they are willing to invest in one (10-20 JD/month). Inside the camps not everyone owns a phone, but those that cannot afford one, they can easily rent a mobile at one of the many cellphone shops across the main street called Champs-Élysées.
The story, however, is not the same for computers or tablets are not commonly found. Inside the camp, computers can be found at base-camp, the area of the camp where UN and international organizations' trailers are located, and at some vocational training centers across the camp such as the International Medical Riggs (IMC) Computer Lab or the Norwegian Refugee Council (NRC) training center.
The lack of computers is not a surprise, as the majority of the camp, including schools and tents, do not have access to electricity. Despite its limitations, the few computers available in the camp are being used to improve the lives of refugee. Over 100 youth have graduated from the certificate program in IT, improving their chances of finding decent work outside of the camp.
Looking Ahead: Technology with a Purpose
As I exited the camp and headed back to Amman, it became more visible the impact that technology has in the lives of refugees, but I realize that ICTs has the potential to do even more. There are many hurdles that refugees still face in order to benefit from additional technology. First, not all refugee have access to ICTs; this is particularly true for the elderly, women, those that can't afford it, or those that are not simply interested in investing in it as food and shelter are a more immediate concern. Second, gender impacts the way in which refugees interact with technology.
In her research, Dr Janbek noted that women and men use their mobile phones differently, these patterns are related to culture. For example, women in refugee settlements use their phones more for photography, rather that for communicating with each other. Third, privacy remains an issue for refugees that use ICTs. Refugees have noted that their concerns about privacy when browsing websites online or posting on social media as they believe that authorities are surveilling their communities. This limits the types of information that refugees access online and creates mistrust about the content that they see online.
Finding ways to meet the needs of today's refugees is one of the biggest challenges that countries and international organizations are facing. Escalation of violent conflicts, including the Syrian Civil War, has forced millions of people to flee their countries. As countries develop the necessary systems to provide refugees with basic services including education, sanitation, and shelter. Technology has allowed countries and international organizations to better serve these communications by accelerating the exchange of information between them and improving coordination.
Furthermore, technology has allowed refugees to stay in touch with their family and access information to improve their lives. However, there is still work to be done. International organizations need to improve their understanding on how refugees communities are using ICTs, and which ones of these technologies are available to them. In order to unlock the potential of technology, we must continue asking ourselves the same questions: What are we trying to achieve? Finding ways to improve the lives of refugees.
Olimar Maisonet-Guzman is a policy coordinator for IREX's Center for Collaborative Technologies where she explores the use of emerging technologies and ICTs in international development. Previously, she worked worked at the U.S. State Department and as a policy coordinator for the United Nations Rio+20 and the post-2015 negotiations.