Unmanned aerial vehicles (UAVs) could become an important tool for international development. Also known as drones, UAVs are aircraft that can be piloted remotely or flown autonomously.
Although they have many humanitarian applications – including emergency food provision, disaster relief, and supply transport – the common use of UAVs for military operations could negatively affect public perceptions of their use for development.
Only a few studies have explored the public's perceptions of UAVs for non-military uses. Almost nothing is known about the public's attitude toward the use of UAVs for humanitarian purposes in developing countries. Such information would help the development community design UAV projects that are responsible, safe, and successful.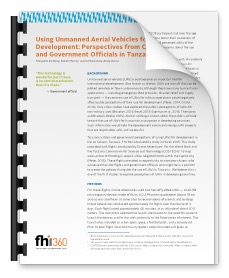 To assess citizen and government perceptions of using UAVs for development in Dar es Salaam, Tanzania, FHI 360 conducted the Using Unmanned Aerial Vehicles for Development: Perspectives from Citizens and Government Officials in Tanzania study in March 2015.
This study coincided with flights conducted by Drone Adventures for the World Bank and the Tanzania Commission for Science and Technology (COSTECH) to map areas prone to flooding in several urban neighborhoods within the capital city.
These flights provided an opportunity to interview citizens who witnessed the UAV flights and government officials who might be in a position to create the policies that guide the use of UAVs in Tanzania. We believe this is one of the first studies to explore perceptions of UAVs in developing countries.
Study Findings
The Using Unmanned Aerial Vehicles for Development: Perspectives from Citizens and Government Officials in Tanzania study found that citizen witnesses and government officials were overwhelmingly positive about the potential of UAV technology in Tanzania.
Both groups believed that UAVs could be useful for, disaster relief, infrastructure improvements, transportation of medical supplies, including: medicines, blood, lab reagents, and other medical supplies, traffic monitoring, wildlife management, and criminal investigations. Some government officials also mentioned mapping, population counts, weather sensing, filmmaking and marketing, and border surveillance.
Government officials expressed many more and more varied concerns than witnesses. Whereas only a few witnesses worried about accidents, security, and visual privacy, all government officials voiced concerns and those focused on costs, regulations, ownership, and local capacity to maintain and use the technology. Many of these concerns could be addressed, in part, by providing officials and citizens with more information on UAV technology and applications.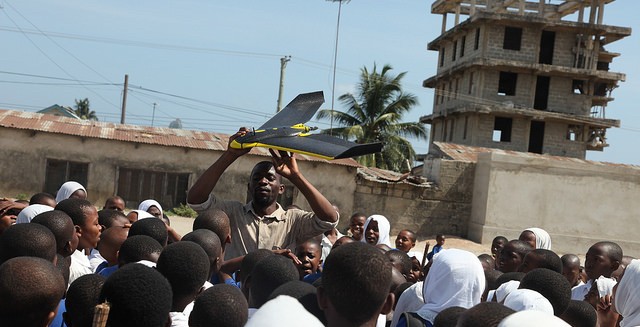 Recommendations
Raise Awareness: While some officials are already using UAVs for wildlife surveillance and infrastructure assessments, many others remain unfamiliar with the existing applications of UAVs in Tanzania. A campaign to raise the awareness of Tanzanian-led initiatives in UAV technology could highlight existing capacity and innovation.
Build Local Capacity: Several ministries have UAV experts and the Commission on Science and Technology's innovation hub hopes to produce some UAVs. Furthermore, the Ifakara Health Institute won USAID's 2015 Saving Lives at Birth Grand Challenge for a project that will deliver blood and medicine via UAV. Tanzania is growing the local capacity to create, maintain, and use this technology. This capacity could be promoted to encourage the use of UAVs for development that is grounded in local concerns and needs.
Develop Regulations: The development of regulations for the use of UAVs should be a priority, and it should coincide with efforts to educate the public about the potential benefits and concerns associated with the technology.
Follow Best Practices: All organizations that use UAVs should follow recognized good practices – such as those in the UAViators Code of Conduct – to ensure safe and ethical uses. The most effective uses of the technology will also monitor community reactions to flights as UAVs awareness increases.
The adoption of new technology is a communication process that takes time and social engagement. We hope these study results inform conversations about UAV use in Tanzania by recognizing the concerns of communities and the government related to UAVs, and by informing the content of educational messages about the use of UAVs for development.
By Margaret Eichleay, Sarah Mercer, Justin Murashani, Emily Evens of FHI 360.