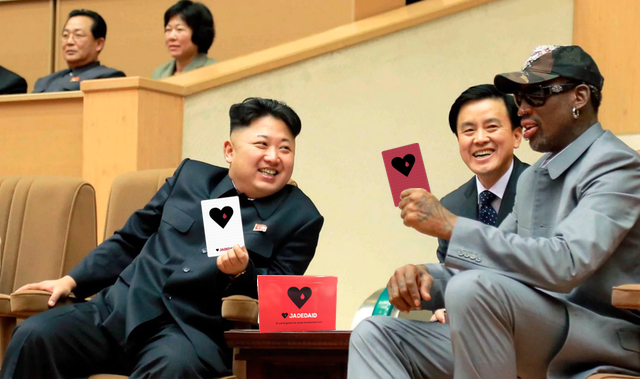 WASHINGTON, D.C. – For Immediate Release, April 1, 2017 – The White House is proud to announce that President Donald J. Trump has appointed a new special envoy for North Korea to assist the President in his historic meeting with Kim Jong-un, Chairman of the Workers' Party of Korea.
President Trump made the announcement via Twitter earlier today that Dennis Keith "The Worm" Rodman will now be the official representative of the United States of America to Chairman Jong-un.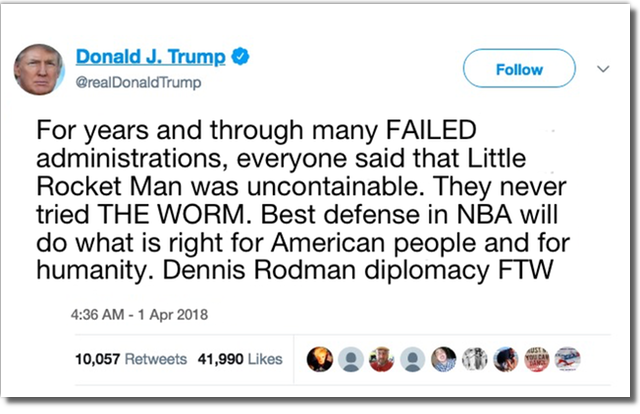 "For years and through many FAILED administrations, everyone said that Little Rocket Man was uncontainable. They never tried THE WORM. Best defense in NBA will do what is right for American people and for humanity. Dennis Rodman diplomacy FTW"
As Special Envoy to the Democratic People's Republic of Korea, Mr. Rodman will assume leadership of US-DPRK relations, fulfilling a key gap in State Department staffing. Shortly after his appointment, Mr. Rodman replied with his strategic approach to Chairman Jong-un, who Mr. Rodman refers to as "The Marshal" due to his familiarity with the North Korean leader: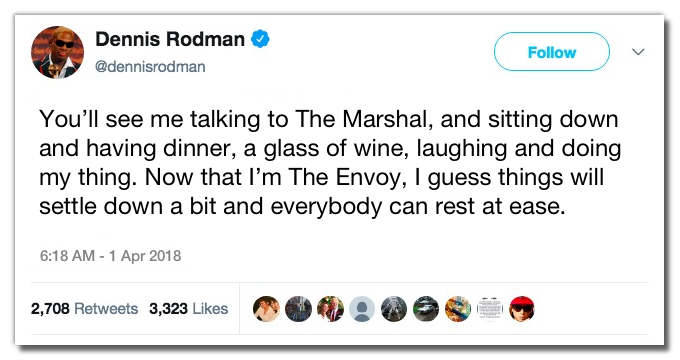 "You'll see me talking to The Marshal, and sitting down and having dinner, a glass of wine, laughing and doing my thing. Now that I'm The Envoy, I guess things will settle down a bit and everybody can rest at ease."
Long-Standing Relationships
President Trump has a long-standing relationship with Mr. Rodman, beginning with Mr. Rodman's 2009 appearance on The Apprentice, in which Mr. Trump had a starring role at the time, and continuing through Mr. Rodman's endorsement of President Trump during the 2017 elections.
Since then, President Trump and Mr. Rodman have maintained a strong friendship through related interests, such as professional rebounding.
Mr. Rodman led the NBA in rebounds per game for a record seven consecutive years and his official biography states that he is arguably the best rebounding forward in NBA history. President Trump has a record number of rebounds too, including rebounding from bankruptcy six times to a net worth of over $3 billion, and rebounding from Fake News about past misogyny to becoming POTUS.
Chairman Jong-un also has a long-standing relationship with Mr. Rodman, formed over Mr. Rodman's visits to North Korea, that included skiing trips, horseback riding, and karaoke sessions with Chairman Jong-un.
Dennis Rodman Diplomacy
Mr. Rodman intends to initiate North Korean negotiations with a more relaxed approach than previous overtures, seeking to build rapport with Chairman Jong-un in preparation for his historic meeting with President Trump through "Dennis Rodman diplomacy."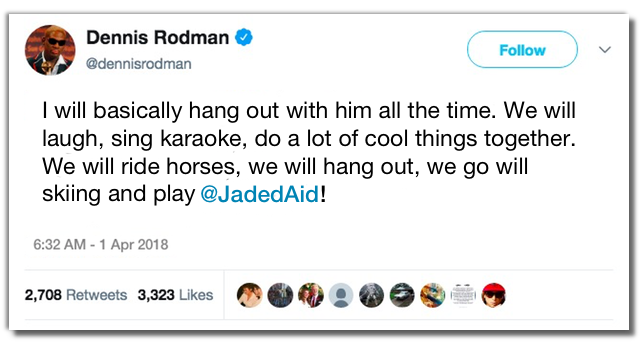 "I will basically hang out with him all the time. We will laugh, sing karaoke, do a lot of cool things together. We will ride horses, we will hang out, we go will skiing and play JadedAid."
As part of his new role, Mr. Rodman will eschew previous support from PotCoin, a digital currency for the cannabis industry, Paddy Power, an online betting service, and "consultants", for his North Korean visits. Instead, Mr. Rodman will include playing JadedAid, a card game to save humanitarians, in his official duties.
"We are proud to support Dennis Rodman diplomacy," said JadedAid co-founder Wayan Vota, "He represents the true spirit of JadedAid – comedic tragedy in the midst of chaos. To celebrate, we are having a 20% off sale today in the USA and Canada, and proceeds will go towards realizing his unique style of bilateral negotiations."
State Department Support
Acting Secretary of State, John Sullivan, commended President Trump's choice of Dennis Rodman for Special Envoy, and welcomed Mr. Rodman's expertise with DPRK leadership.
"I look forward to working with Mr. Rodman in his official capacity to ensure appropriate dialogue that can lead to denuclearization of the Korean peninsula… before the Mikey and Johnny show blow everything up with their kinetic diplomacy!"
Mr. Rodman will have the choice of the many, many empty offices at the State Department's Foggy Bottom headquarters, and due to continued staff changes at the White House, Mr. Rodman may have further duties not detailed here, including bringing peace to the Middle East.